A TEAM card provides evidence of identity and LEEA qualifications. It is accredited by CSCS and can be used to access all UK construction sites operating under the CSCS scheme.
It is available to people who
Hold a LEEA Advanced Programme or Diploma
Are directly employed by a full or development member of LEEA
William Hackett Sling Calculator
William Hackett Sling Calculator is a free app that lets you configure your chain or wire rope sling by taking you through a number of steps. Once completed, the sling specification can be viewed along with a 3D image of exactly how the sling will look.
A part code for the sling is generated and a recommended retail price is given. By hitting 'request quote' you can have the quote emailed to yourself instantly. This key feature is great for when working on site. Once you have the app downloaded, please fill out your details in the account settings and create an account for free.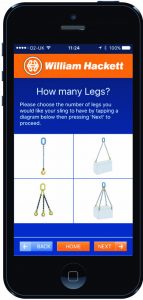 Use the buttons to access the SWL of different grades of chain, to help inform you of which best helps meet your needs and also as a reference when using chains in a choke/basket or 2 & 3/4 leg chains.
Download this handy document which has all of the information needed for lifting slings, including:
Lifting Modes
Lifting Factors
Do's & Don'ts
Heat & Chemical advice